H O M E
Heartbeat of Mother Earth
Spring Women's Retreat
May 4-7th | Joshua Tree
Gather with other conscious women in the heart of the desert and experience yourself as whole again. Throughout this retreat experience, you will be invited to journey into the essence of your soul and reclaim the parts of yourself that have been yearning to be seen and heard. You will have the opportunity to meet these places within yourself with love and kindness in a safe, trauma-informed container. Step into the full expression of your soul and discover how powerful, beautiful, and magical you truly are.
AMA CASTRO
RELATIONSHIP ALCHEMIST
Ama has worked in the field of mental health and spiritual transformation for 15 years. She has worked with thousands of individuals, and has facilitated over one thousand groups/workshops in the Los Angeles area. She is a devoted student of Great Mother, a mother of three beautiful children and a wife to her beloved partner in life and in business. Her and her husband Santos co-founded Conscious Partnership Coaching in 2016 and have been in deep service to individuals, couples and families in creating powerful, loving, connected and harmonious relationships.
Ama uses a blend of her professional training and personal experience to create a safe space for her clients to transform. She is masterful and intuitive in uncovering the hidden belief systems that keep people from creating liberated and joyful lives. She is a certified trauma-informed coach specializing in Spiritual Transformation, Relationships, and Alchemy.
KAREN LULU SCOTT

HEAD MERMAID

Somatic Experiencing Trauma Healing SEP Certified, Trauma Practitioner MOD IIIII, Conscious Partnership & Communication, Certified Integration Practitioner
CADAC II, Grief Counselor, & Nonviolent Parent Educator. Life Coach, Autism IEP Advocate, Interior Residential & Corporate Designer.

Hailing from England & raised in LA, I had an eclectic upbringing. These origins sparked my passion for creative design, my ease at being at home with the most creative of minds, and a deep need to inspire others. In 2001, my first son was diagnosed with Autism. He was easily disregulated by the world around him. "Peace is the tranquility of order" & this describes the heart of my design firm Redbird+Willow. I again found myself with the deepest inquiry that lead me back to UCLA to study CADAC & into the ocean where I began surfing.
I love my life today & I live my life to be of service to others. By increasing your joy & healing, I increase my own.
ALICE KHALSA
WOMEN'S EMPOWERMENT GUIDE
Alice Khalsa is a Trauma Informed Coach, Kundalini Yoga Instructor, Holistic Nutritionist, Certified in: Neuro Linguistic Programming, Timeline Therapy, Hypnosis, Conscious Partnership, & Prenatal Kundalini.
She is a new mama to a one-year-old beautiful baby boy & in sacred partnership with her husband. In her own journey, Alice has navigated through chronic illness, addiction, codependency, & at the root of it all, trauma.
Alice has been working with women for over ten years. She has facilitated retreats, group & individual coaching, & has taught Kundalini Yoga for eleven years in LA, Joshua Tree, & Austin in studios such as Wanderlust & Golden Bridge HLWD.
Her work supports women to cultivate self-trust, resolve long-standing patterns of suffering, & rise up into their power, passion, & purpose.
LILLIAN LOVE
SOUL-PURPOSE & FEMININE EMPOWERMENT COACH
Lillian Love is a Soul-Purpose & Feminine Empowerment Coach. Lillian is the CEO of Embodied Feminine Guide, a trauma-informed Facilitator Training for Women who are ready to embody and share the medicine of alchemizing their pain into purpose, self mastery and taking action in their soul aligned business. She is the co-creator of Cosmic Touch, a documentary Film exploring the transformational healing power of self-pleasure. Lillian has run Retreats in Hawaii, the Hamptons, Bali, Amsterdam, Dubai, Ibiza, Mexico and Los Angeles.
Lillian has committed her life to healing her own past childhood traumas and supporting others to do the same. Having unconsciously played each role of victim, perpetrator and rescuer in this lifetime, she wholly believes our personal and collective healing comes when we choose to complete this cycle and become the empowered creators and compassionate space holders for our infinite human hearts.
LIZA SIMONE
HERBALIST AND EARTH ALCHEMIST
Founder of Simone Grown, a Medicinal & Magical Homegrown Apothecary.
Co-creator of Be&Bee, a conscious clothing company with a mission to uplift and inspire active engagement in our environments.
Liza Simone is an Earth Alchemist, herbalist and lifelong Plant Lover. Trained in the Wise Woman Tradition of Folk Herbalism, she brings her Earth-loving heart to everything she does. With over 10 years of hands on experience growing medicinal herb gardens and abundant food forests, while nurturing a deep love & admiration for the potent gifts of Gaia, Liza shares her rooted wisdom and alchemical gifts through the bounty she offers to her communities.
Her deep trust in the healing powers of plants and their infinite intelligence allows her to wholeheartedly lead others to find their own profound connections within themselves and with the natural world. She is also a Certified Medicinal Aromatherapist, working with plant essences and aromatherapy to achieve greater balance and harmony.
Liza Simone weaves the ways of the Wise Woman in to all aspects of daily life and guides us to discover true nourishment and pure connection through the herbs she calls 'friends'.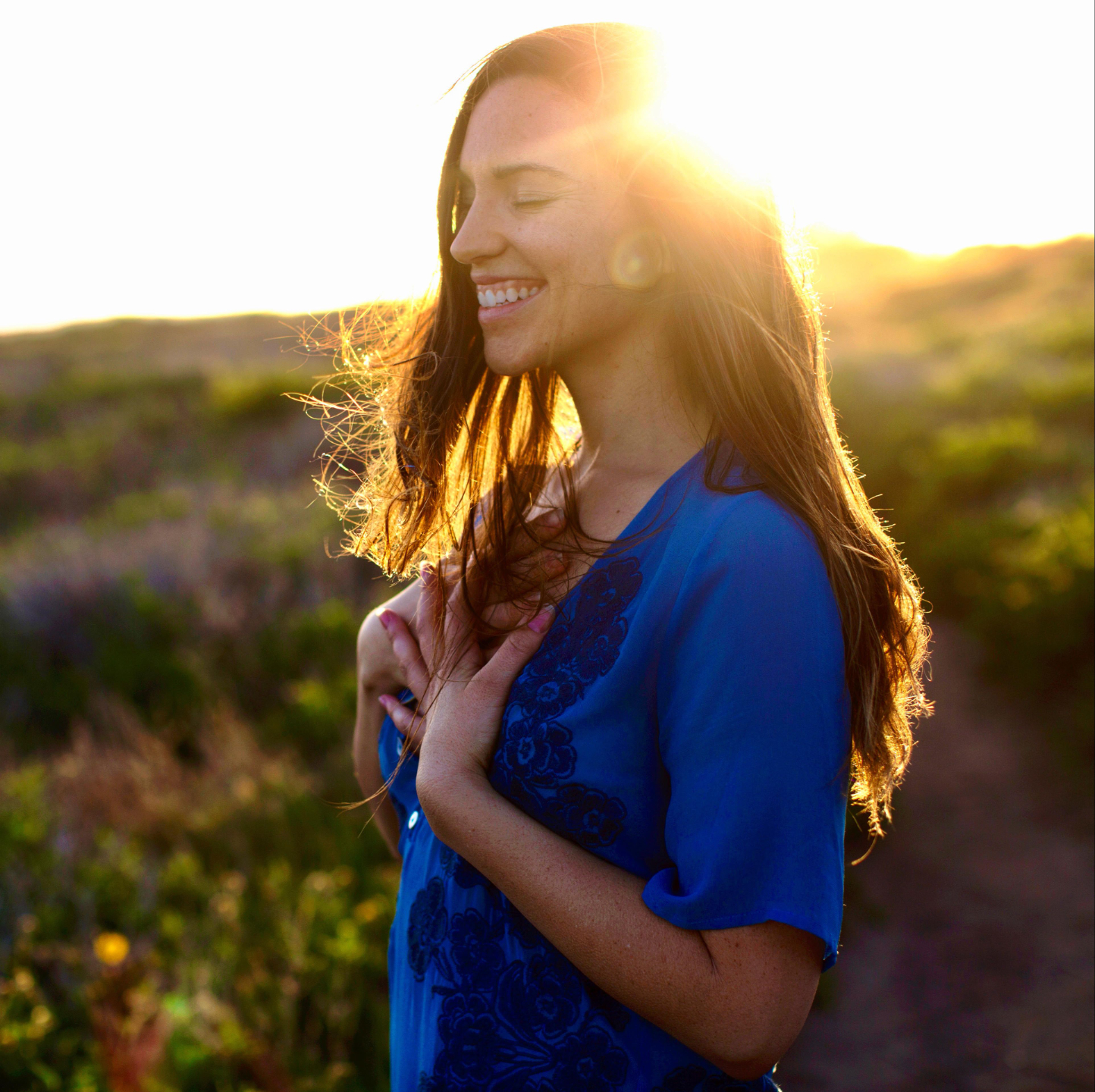 ALISHA DIVINA
Alisha Divina is a Trauma Support Specialist, ThetaHealing Practitioner, Gene Keys Guide, ShaktiRize Dance Teacher, and Feminine Empowerment Coach.
Alisha spent most of her life struggling to overcome symptoms of loss, trauma, and abuse: such as anxiety, depression, eating disorder, codependency, self-hatred, self-harm, and addiction. At the age of 19, she began devoting her life to healing and liberation. Over the last 17 years, Alisha has integrated various healing modalities she learned along the way from other amazing sisters into her self-care rituals. By relentlessly searching inside herself to find her own power, Alisha broke free from self-inflicted suffering and came home to the loving Goddess within her.
Alisha's mission is to help women liberate themselves from suffering, reclaim their mystical, intuitive, and sensual power, and create the blissfully abundant life they truly desire. With over a decade of experience and training in transformation, Alisha guides women through emotional healing, belief empowerment, and Goddess embodiment.
Alisha works with women one on one and hosts private Goddess Embodiment retreats on Maui.
Nestled in the heart of the desert in Southern California, a rustic, yet charming reprieve awaits you. Enjoy the subtle beauty of the desert landscape, a quiet mountain backdrop, and a sacred labyrinth on the heart of the property. This unassuming venue is the perfect place to rest your body and travel into the heart of your soul.
RUSTIC DESERT CHIC
Modest and Simple Shared Accommodations with Thoughtful Touches
WOOD BOARD LOVE
Nourishing Organic Meals with Vegan and Gluten-Free Options Available
SOUL-NOURISHING LAND
Reconnect with Your Soul Essence in the Quiet, Empty Stillness of the Desert
3-Night Stay at Private Venue Near Joshua Tree, CA (exact address provided upon registration)
Nourishing Organic Meals (2 Breakfasts, 1 Brunch, 2 Lunches, and 2 Dinners) + Ongoing Wood Board Love & Tea (Vegan and Gluten-Free Options Available)
Ceremony & Soul Journey
Kundalini Yoga and Breathwork
Crystal Bowl Sound Healing with Hands on Reiki Healing
Morning Sunrise Yoga & Meditation
Somatic Experiencing
Guided Soul Retrieval
Ecstatic Dance with Live DJ
Optional Guided Hike on Sacred Goat Mountain
Deep Feminine Soul Nourishment & Sacred Rest
Use of Outdoor Hot Tub
---
Not Included:
Transportation to and from the venue
THURSDAY
2:00 - 4:00 PM Arrival & Ceremonial Energy Detox & Activation Portal
4:00 - 6:00 PM Meet, Greet, & Connection Time
6:00 - 7:00 PM Nourishing Soup & Wood Board Love
7:00 - 8:00 PM Breathwork, Crystal Bowl Sound Bath, & Hands on Reiki Healing
8:00 - 9:30 PM Sitting Fireside
---
FRIDAY
7:00 - 8:00 AM Gentle Kundalini Yoga and Sun Activation Meditation
8:00 - 9:00 AM Breakfast & Cacao
9:00 - 11:00 AM Relationship Alchemy and Conscious Communication
11:00 - 11:30 AM Self-Care Time
11:30 - 1:00 AM Guided Soul Retrieval
1:00 - 2:00 PM Nourishing Lunch
2:00 - 4:00 PM Sacred Rest and Prep for Ceremony
3:15 - 4:00 PM Optional Intention Discovery Session with Lulu
4:00 - 5:00 PM Intention Circle and Initiation of Ceremony
5:00 PM Breathwork, Sound Bath & Ceremony
10:30 PM Nourishing Soup & Bread
---
SATURDAY
9:00 - 10:00 PM Breakfast & Cacao
10:00 - 1:00 PM Integration Circles (beginning with breath and stretching)
1:00 - 2:00 PM Lunch
2:00 - 3:30 PM Somatic Experiencing
3:45 - 5:00 PM Mother Earth's Medicine Cabinet with Liza
5:00 - 6:00 PM Personal Integration Time
6:00 - 7:00 PM Dinner
7:00 - 9:00 PM Campfire, Ecstatic Dance with Live DJ & Star-Gazing
---
SUNDAY
7:00 - 8:00 AM ShaktiRIZE with Alisha Divina Cheetah
8:00 - 9:30 AM Sacred Wombwork with Guest Facilitator Lillian Love
09:30 - 11:00 AM Brunch & Cacao
11:00 - 12:30 PM Parts Integration
12:30 - 1:30 PM Rest
1:00 - 4:00 PM Lunch + Closing Circle & Integration.

*THIS IS A SAMPLE SCHEDULE ONLY! The actual schedule will be given at the retreat venue.
LOTUS ROOM
$1999
Premium Shared
[or 2 monthly payments of $1000]
The Lotus Room has two double bunk beds (4 beds total) and is located inside the main house with access to a shared indoor bathroom.
ONE SPACE AVAILABLE
What is your cancellation/refund policy?
Is there WiFi/cell reception?
What does the retreat container look like?
When is my full payment due?
What is the weather like in May?